Abdel Aziz announced Monday the news on social media.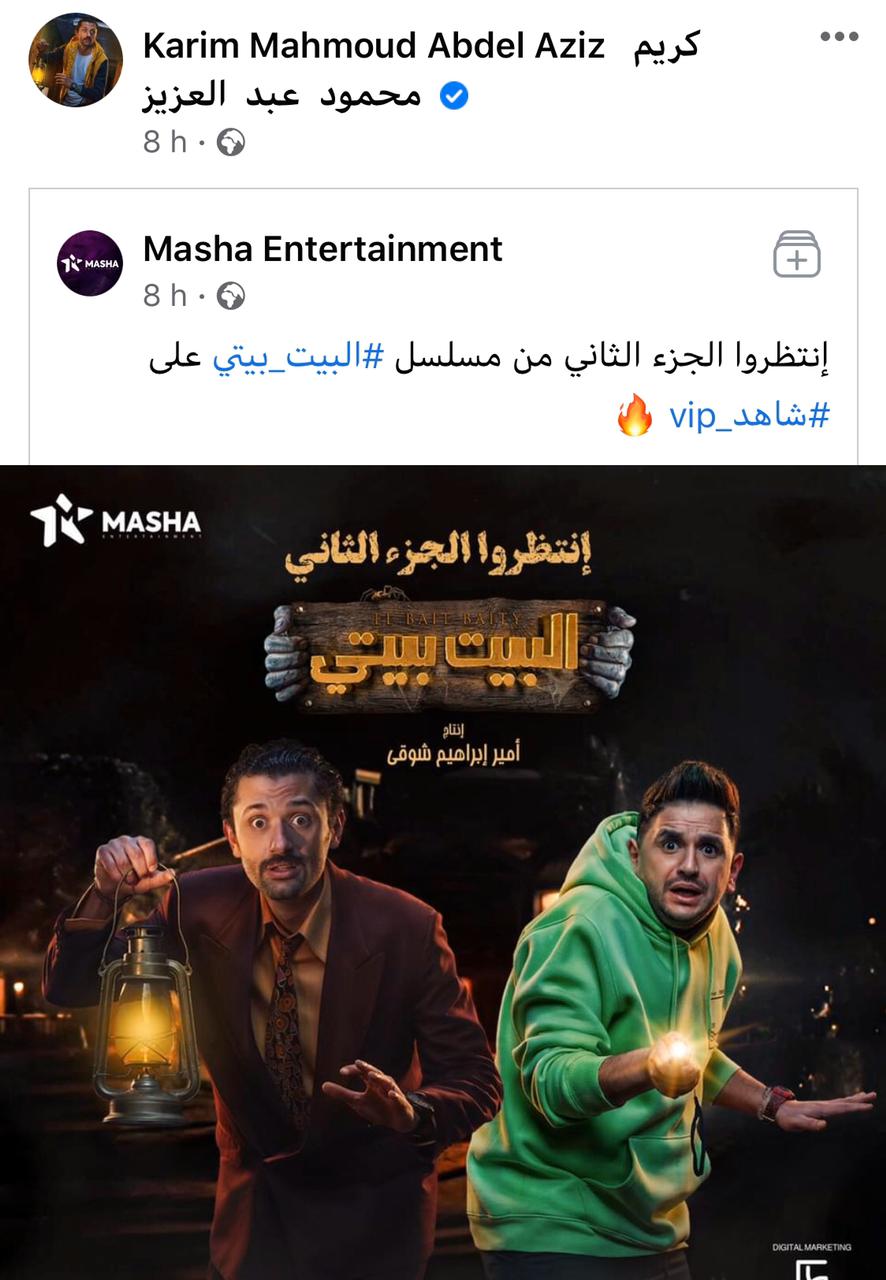 The series is a 10-episode comedy-horror genre that debuted on the Shahid VIP platform on May 26.
It also starred Samy Maghawry, Mirna Gamil, Mohamed Mahmoud Abdel Aziz, Mai Elkady, and others.
Khaled Marei directed from a script by Ahmed Abdel Wahab and Karim Sami.
The series witnesses the first collaboration between Abdel Aziz and Khater.
"El Bait Baity" followed a reckless youth inheriting his father's mansion which caused his life to take an unexpected turn. He soon meets a taxi driver who gets tangled in his chaotic life.
https://youtu.be/H8raa2nBpzw
Abdel Aziz, born on June 15, 1985, he is is the son of one of the most famous actors in the history of Egyptian cinema, Mahmoud Abdel Aziz.
He got his start by way of a video camera - one of his hobbies was filming and making films with his friends. His talent led him to boldly interrupt his father's meetings with directors Essam El Shama and Mohamed Abdel Aziz to show them what he'd created with his camera.
El Shama was impressed with his talent, and after a few days, director Mohamed Abdel Aziz chose him to act in the film "Shagaret El Ahlam" (Tree of Dreams).
The actor insisted on starting his career in cinema without assistance from anyone, even his father who objected to his son's way of doing things.
Karim starred in many films and TV productions such as "Men Agl Zeko" (2022), "Mousa" (2021), "Shaqet Faisal" (2019), "Hogan" (2019), "Etla'ooli Barra" (2018), "Elkaboos" (2015), "Gabal Al Halal" (2014), "Gawaza Meery"
(2014), "9 Gameat El Dowal" (2012), "Bab Al Khalq" (2012), and "Mahmoud Al-Masri" (2004).