"El Hadaba" Amr Diab will perform live at the Al-Alamein festival, in Al-Alamein Arena, in New Alamein, Marsa Matruh, on Friday, August 5.
He is set to present several of his popular and latest songs.
The event is organized by the "Tazkarti" company and is hosted as as part of the 2022 summer season concerts.
The concert ‪ticket prices as follows:
Regular (Early bird): EGP 400

Fan Pit (Early bird): EGP 800

VIP Bean Bags (Early bird): EGP 1750

High tables (Early bird): EGP 20,000

Lounges (Early bird): EGP 50,000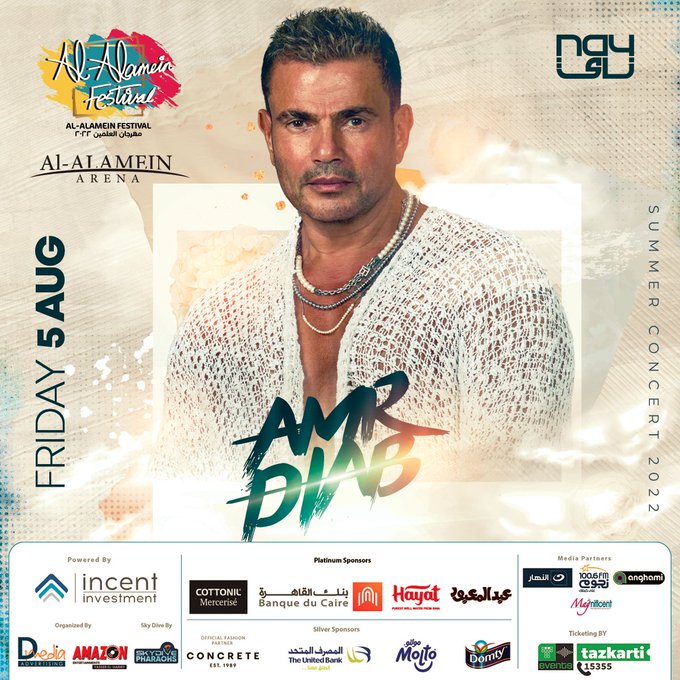 Diab, born on October 11, 1961, is a multi-award-winning pop singer-songwriter. He created his own style which is often termed "Mediterranean Music", a blend of Western and Egyptian rhythms, by 1992, he became the first Arabic artist to start making high-tech music videos.
He is a Guinness World Record holder, the best-selling Middle Eastern artist, a seven-time winner of World Music Awards, and a five-time winner of Platinum Records.
Diab's fame in the entertainment industry has led him to experiment with other forms of media, such as film-making.
The acclaimed singer co-starred in four films, "Al Sagenatan", "El Afareet", "Ice Cream in Gleam", and "Dehk Wa Le'b Wa Gad Wa Hob".
In 1988, he made his acting debut in the film "Al Sagenatan" starring prominent actresses Elham Shahin and Samah Anwar.
Despite the films' success, Diab did not experience the same level of success in acting as he had with his music. He has focused on his singing career since 1993.
In 2020, the iconic singer signed on to make an acting comeback in an Arabic original series for Netflix.