Egyptian superstar Sherine Abdel-Wahab will perform live at the Etihad Arena, in Abu Dhabi, United Arab Emirates (UAE), on Wednesday, May 4.
She is set to present several of her popular and latest songs.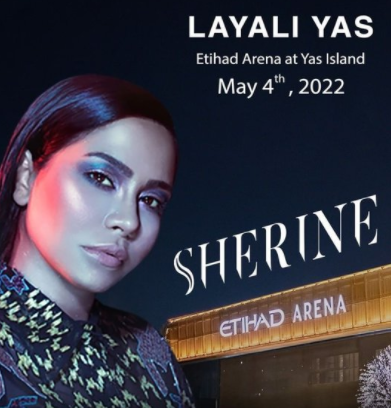 The concert is part of Yas Island's upcoming "Layali Yas" concerts series, which will also feature the performances of global Arab icons Amr Diab and Kadim Al Sahir.
Diab is set to take to the stage on Tuesday, May 3. Al Sahir will put on a dazzling performance for his fans the following night.
Tickets to the concert start at AED 150 and can be purchased at www.etihadarena.ae starting from 24 February at 4 pm.
To ensure the health and safety of all guests, applicable safety measures will be enforced at the events. All concertgoers will be required to show 'green' status on the Alhosn app and present a 96-hour negative PCR test result.
[caption id="attachment_327364" align="aligncenter" width="1375"]
Sherine Abdel-Wahab[/caption]
The superstar resumed her career back in August 2021 after a long absence. She had stepped away from the music scene and social media after she was bullied online over mistakes she unintentionally made in 2018.
In April, Abdel-Wahab returned to Facebook and Instagram after a two-year break, during which she suspended her account and only used Twitter.