Egyptian actor Mohamed Ramadan is collaborating with director Mohamed Sami in the TV series "El Omda", which is set to screen in Ramadan 2023 drama marathon.
The series is scripted and directed by Sami.
"El Omda" marks Ramadan and Sami's fourth collaboration after the 2020 TV series "Al Prince", the 2016 TV series "Al-Ostora", and the 2017 film "Jawab E'teqal".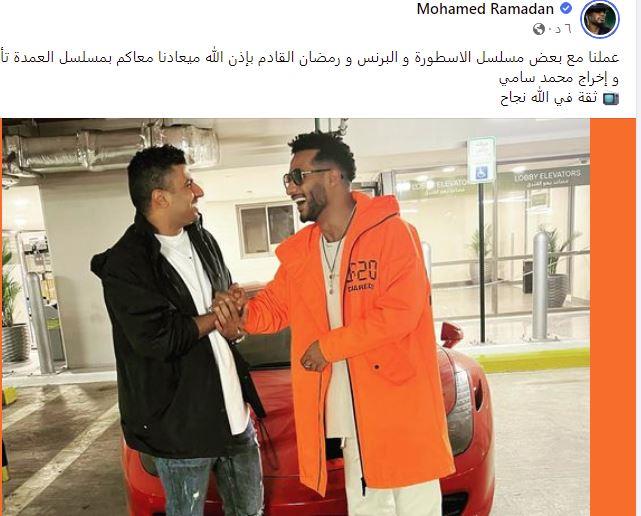 The actor participated last Ramadan with the TV series "Al Meshwar".
The series also starred Dina El Sherbiny, Nada Moussa, Ahmed Magdy, Sabry Fawwaz, Sayed Ragab, and others.
It was penned by Mohamad Farid and directed by Mohamed Yassin.
[caption id="attachment_272789" align="alignnone" width="1024"]
Mohamed Ramadan[/caption]
Ramadan, born on May 23, 1988, began acting while at school. He received the award for greatest nationwide talent three times consecutively – an unprecedented achievement.
He started his career with small roles in TV series like "The Cindrella" until he had his big break in Yousry Nasrallah's "Ehky Ya Sharazad" (Tell me, Shahrazad).
The actor then went on to star in blockbusters produced by the famous Egyptian producers Mohamed and Ahmed El Sobky, which made him one of the most valuable actors in the middle east.
He is perhaps the only Egyptian actor to have been praised by the internationally renowned actor Omar El-Sherif who stated that he had chosen him to perpetuate his acting legacy.
Ramadan began exploring rap in the past years and releasing music videos for his singles. He recently released another collaboration titled "Every Day", featuring Dammy Krane.