Iconic Syrian singer George Wassouf will perform live in Saudi Arabia, on Wednesday, June 29.
The evening will also feature a performance by Lebanese superstar Saber Rebaï.
The concerts are held as a part of the Jeddah Season.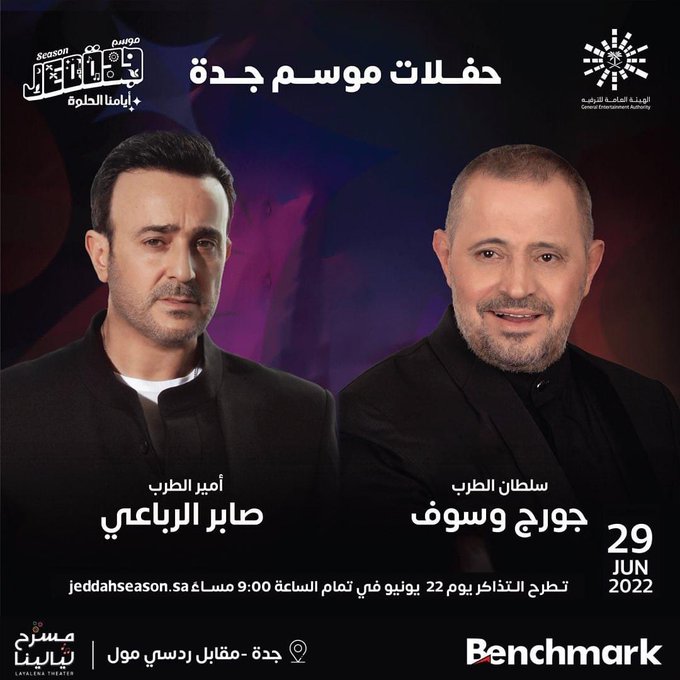 This year, the activities of the Jeddah season zones are distinguished by the diversity of options, catering to all desires and tastes.
The events will feature 2,800 different recreational, cultural, artistic, and tourist activities. It will be held at several zones in Jeddah.
The Jeddah Season 2022 kicked off on May 2 with fireworks and international Cirque du Soleil shows and will run through June 30.
The season returned following a two-year hiatus due to the coronavirus outbreak.
Wassouf, who was born on December 23, 1961, has a significantly large audience of fans in the Arab world and abroad.
He began singing at the age of 10 in his hometown Kafroun and was discovered two years later by his first manager and producer George Yazbeck at a wedding.
At the age of 19, the singer became famous after appearing on the Lebanese show "Studio El Fan" in 1980.
He is one of the most successful Arab singers selling over 60 million records worldwide.