Lebanese actress-singer, Cyrine Abdelnour will perform live at the Dama Rose Hotel, in Damascus, Syria, on Friday, December 23.
The evening will also feature a performance by superstar Ziad Bourji.
They are set to present several of the popular and latest songs.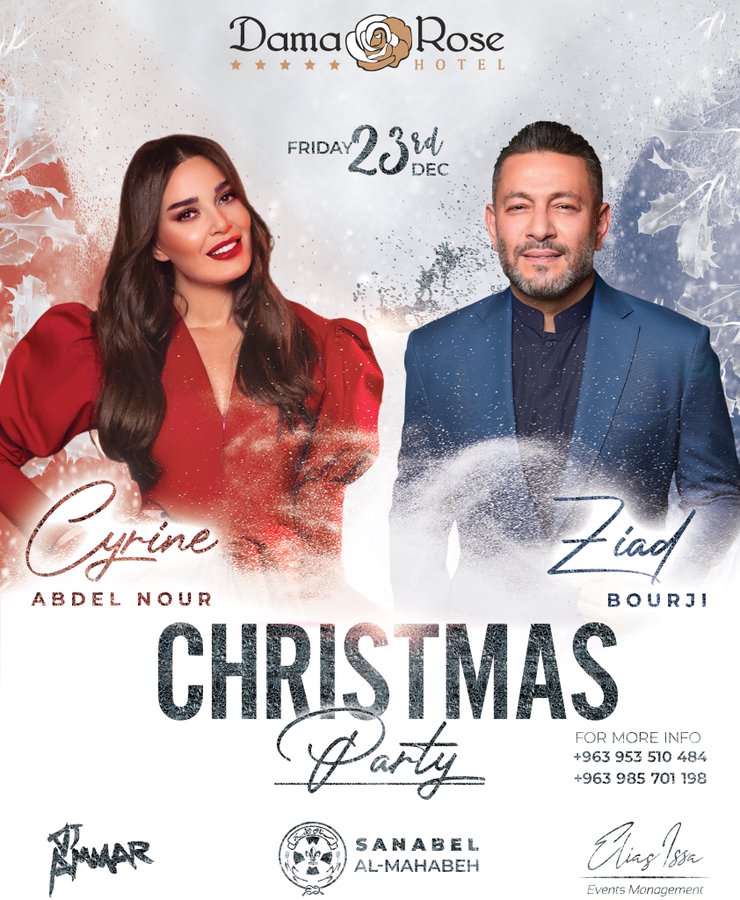 Abdelnour, born on February 21, 1977, is a Lebanese actress and singer, and model.
She studied at St. Courier and accounting until 1993, before pursuing a modelling career and taking classes in fashion design in late 1993.
Abdelnour later began work as a model. She made her first modelling job involved presenting Christmas designs by a group of designers such as Zuhair Murad, Abu Mahfouz, and others.
She collaborated with many famed fashion designers such as Feliciana Rossi, Zuhair Murad, Abed Mahfouz, Renato Balestra, Mireille Dagher, and Thierry Mugler.
She began appearing on LBC as an actress in early 1998. She took part in several drama productions including "Marianna", "Ghadan Youm Akher" (Tomorrow is Another Day), and others.
In 2002, Abdelnour received first place in a huge competition that involved many models. She had her first leading role in the TV series "Ibnatti" (My Daughter) in 2003, followed by more roles.
She made her music debut in 2004. In 2004, she released her debut album, "Leila min El Layali".
Abdelnour is best known for her roles in the 2012 TV series "Ruby", in the 2013 TV series "Leabet el Mout", and in the 2008 film "Ramadan Mabrouk Abou El Alamin Hammouda".
She is also known for starring in the film Al Mosafer (The Traveller) with Omar Sharif, which was screened at the 66th Venice Film Festival.