At least 24 people were killed and 12 others were missing in a landslide in Ecuador's capital, Quito, Mayor Santiago Guarderas said on Tuesday, as rescue workers scoured homes and streets buried in muck after the biggest rainfall in nearly two decades.
On Monday night, severe rains flooded a ravine near the working-class neighbourhoods of La Gasca and La Comuna, dumping mud and debris on residents and disrupting electricity service.
48 inpiduals were hurt, according to the country's disaster management organisation.
"We saw this enormous black flood dragging along everything, so we had to climb the walls to get out," said resident Alba Cotacachi, who had to flee with her two small kids from their home. "We're on the lookout for the missing."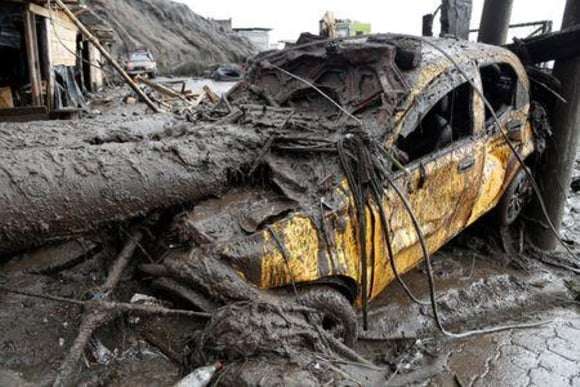 A man was seen attempting to remove himself from the murky waters streaming down a residential street, according to footage acquired by Reuters. According to witnesses who spoke to Reuters, the man was swept away as residents yelled for help.
Last month, Pakistani media reports said that the number of victims of torrential rains and landslides in northwest Pakistan has risen to at least 12, many others were injured as well.
There are women and children among the victims, as they got lost as a result of the landslides and the collapse of the roofs of several houses due to heavy rains in the province of Khyber Pakhtunkhwa, northwest Pakistan.
The authorities indicated that rescue operations are still trying to search for any people trapped among the rubble, adding that dozens of homes and buildings were completely destroyed or partially damaged.