Egyptian actress, Hannah El Zahed and her fiancé Egyptian actor, Ahmed Fahmy will wed Wednesday evening at a major hotel featuring a panoramic view of the Nile.
Many of the stars friends are expected to attend the wedding.
The duo cooperated in Ramadan with two artistic work which was TV series "El wad Sayed el Shahat", and in Radio drama series "Arabie engliezi" (Arabic English).
They were engaged in 2018 after a small love story, in Hannah's home, amid the attendee of their families and close friends, on August 16.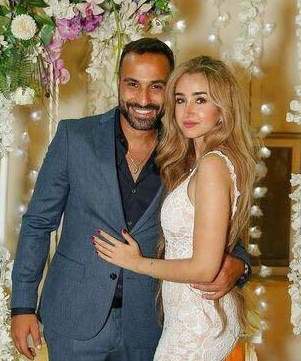 The couple relationship witnessed great developments before their engagement, where they spotted together in most of their social outlets.
Fahmy took to Instagram after the engagement ceremony and posted a picture of the newly engaged couple declaring، "She is my Queen".
The couple went viral across the social media and became on the most searched on Google top-trending searches in Egypt following their engagement.
Their age difference caused panic among several of her fans, who advised her to marry someone younger, and someone who was not married before, as Fahmy is 13 years her senior.
This will be Fahmy's third time to get married, where he was previously married to Shahd Ramzi and Menna Hussein Fahmy.
On August 12, the actress became one of the most followed actresses on Instagram.
The actress posted a new picture of herself on her official "Instagram" account to celebrate her happiness overreaching nine million followers on her Instagram.
"9 MILLION FOLLOWERS! I can't thank you enough for making me one of the highest middle east artists that have such huge number of followers on Instagram! Literally this is one of the best things that encourage me to do better each and everytime I appear on your televisions.❤ Lots of love! Hannah." she captioned.