SEE News introduces a photo story about the Royal family's Christmas celebrations under the reign of Queen Elizabeth II.
Queen Elizabeth made her first Christmas radio broadcast to the U.K. from Sandringham House in 1952.
Queen's Christmas speech was televised for the first time in 1957. The desk was decorated with portraits of Prince Charles and Princess Anne.
Prince Philip and Queen Elizabeth inspect their Christmas tree during the filming of a TV special in 1969.
A still from the Queen's Christmas Broadcast, showing her with her sons Prince Andrew (left) and Prince Edward (center), 1971.
Princess Diana and Prince Charles with a young Prince William at Kensington Palace around Christmastime, 1982.
Princess Diana and Lady Rose Windsor walk hand-in-hand as leave the Christmas Day service at St George's Chapel with the rest of the royal family, 1987.
Prince Harry dressed as a Shepherd for his school's Christmas play, 1988.
Prince William tries on a fireman's helmet at the Sandringham Museum Of Royal Vehicles and Cars during the Christmas holidays, 1988.
Prince Harry and Prince William sit in a horse-drawn carriage with Santa, 1990.
Backstage at London's Royal Opera House, Queen Elizabeth, and Princess Margaret enjoyed the Christmas decorations, 1991.
Princess Diana turns on the Christmas lights in Bond Street, Central London, 1993.
Princess Beatrice and Princess Eugenie attend a Christmas performance of Cinderella, 1995.
Prince William attends the Christmas Day service at Sandringham Church, 1997.
Queen Elizabeth and fashion designer Zandra Rhodes enjoy the Christmas decor in Buckingham Palace's Picture Gallery, 1998.
Prince Edward and his wife, Sophie Countess of Wessex, attend a ballet adaptation of A Christmas Carol, 2001.
Prince Charles hosts a Christmas party with children suffering from Leukemia. Here, the kids watch Sergeant Mark Bevan of the Queen's Dragoon put ornaments on the tree with his sword, 2004.
Prince Charles greets Santa and his helper at the 'Not Forgotten Association' reception at St James's Palace, 2006.
Queen Elizabeth smiles as she receives flowers from young well-wishers on Christmas Day, 2012.
Princess Charlotte carries a festive candy cane as she leaves a Christmas Day service with her family, 2016.
Prince Harry poses with a small tree and Christmas hat at Camp Bastion on December 12, 2012 in Afghanistan.
Kate Middleton helps wrap Christmas presents at the Northside Center for Child Development in New York City, 2014.
Prince William gives Santa his son Prince George's Christmas list, 2017.
Kate Middleton and Prince William hosted a very Christmassy event at Kensington Palace for children of military families—fake snow and all, 2018.
The Duchess visited Peterley Manor Farm in December to help children pick out Christmas trees for their classrooms, 2019.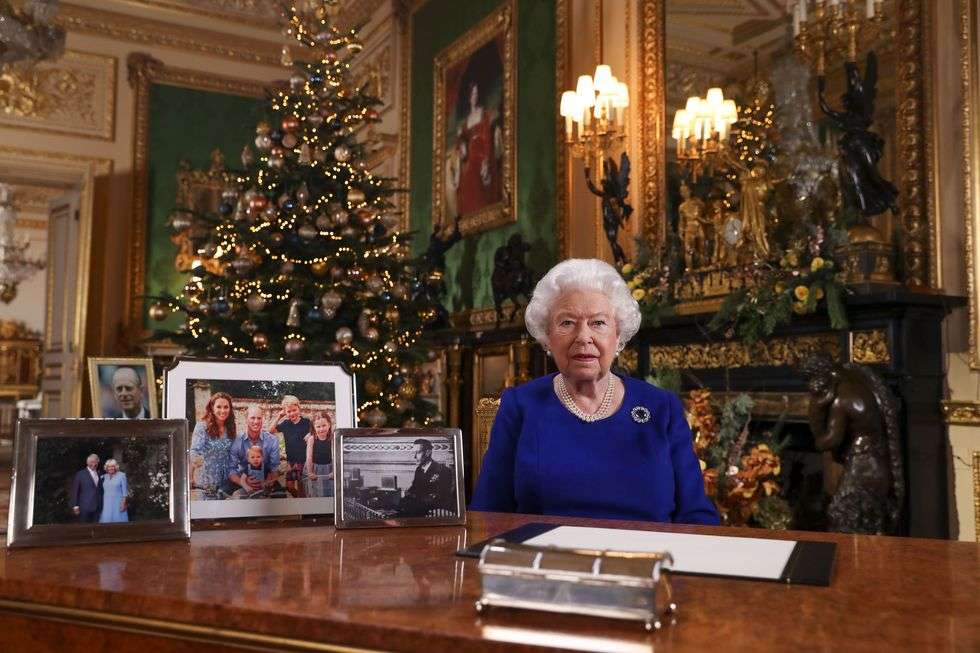 The Queen recorded her annual Christmas broadcast, accompanied by a festive tree and some sweet family photos, 2019.
Following their annual tradition, the royal family attended Christmas Day church services at Sandringham. Here, Prince William, Catherine, Duchess of Cambridge, Prince George, and Princess Charlotte hold hands while heading to church, 2019.
Prince Charles and the Duchess of Cornwall's Christmas Card, 2020.
The Duke and Duchess of Cambridge, with their Children Prince George, Prince Louis and Princess Charlotte, in their 2020 Christmas Card.