Maestro Ahmed Ramadan, Secretary-General of the Musicians Syndicate, stated Wednesday that the ban of mahraganat singer Omar Kamal has been removed.
Ramadan noted that Kamal is now a member and has the right to sing.
The Secretary-General affirmed that the musician took the syndicate's tests and obtained a new membership number, which gave him the right to act as long as he is a member of the syndicate, especially as there is a cooperation protocol between the actors, musicians and cinematic syndicates.
Earlier that day, director Mandu Al-Adl shared on Facebook a new photo from the behind-the-scenes of TV series "Bayn El Samaa Wa El Ard" (Between Heaven and Earth).
The photo, which featured Al-Adl with the singer, was captioned: 'Omar Kamal to make his acting debut on TV series Bayn El Samaa Wa El Ard.'
Later on, the director announced that the Head of the Actors' Syndicate, actor Ashraf Zaki, told him that Kamal is not a member of the Musicians Syndicate and he is not entitled to participate in the series.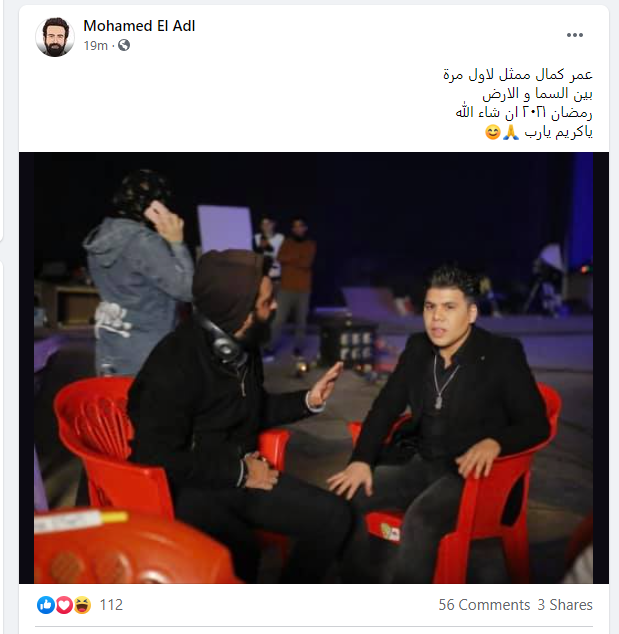 The series will consist of 15 episodes and is set to be screened in Ramadan 2021 drama marathon.
"Bayn El Samaa Wa El Ard" stars Hani Salama, Yosra El Lozy, Dorra Zarrouk, Mohamed Tharwat, Mahmoud Ellithy, Naglaa Badr, Nada Moussa, Ahmed Bedier, Sawsan Badr, Nourhan and others.
It is written by Eslam Hafez, directed by Mandu Al-Adl and produced by Synergy Production Company.
The production is adapted from a novel of the same title by Egyptian international writer Naguib Mahfouz.
In 1960, the novel was turned into a film starring an A-list cast, including Hind Rostom, Abdel Moneim Ibrahim, Mahmoud El Meleigy and Abdelmonem Madbouly.
The plot revolves around a group of strangers who gets stuck together in an elevator. Each has a different story and purpose in life, including an actress, a madman, thieves, a woman about to in labor, a juvenile old man and others.