The Sudanese Ministry of Irrigation announced on Monday that a tripartite meeting of the Ministers of Irrigation and Water Resources in Sudan, Ethiopia and Egypt will be held via video on Tuesday, in order to discuss differences over the Grand Ethiopian Renaissance Dam (GERD).
"Sudanese Minister of Irrigation and Water Resources, Prof. Yasser Abbas invited his counterparts, the Ministers of Irrigation and Water Resources in Egypt and Ethiopia, to participate in the trilateral meeting to continue the negotiations of the Renaissance Dam, which will be held virtually on Tuesday," a statement read.
The upcoming meeting is a continuation of the previous negotiating rounds on the Renaissance Dam, and a culmination of the efforts made by Sudanese Prime Minister Dr. Abdullah Hamduk, which led to the agreement of Egypt and Ethiopia to resume the tripartite negotiations in order to reach a comprehensive and satisfactory agreement that meets the interests of the three countries and fulfills the aspirations of their peoples, according to the statement.
Sudan Is Optimistic 
Moreover, the statement stated that it should be noted that during the previous rounds of negotiation which spanned from 2013 to 2020, the three countries managed to reach consensus on most of the issues on the negotiating table, while a few of the outstanding issues that the three parties hope to agree on. 
The meeting will be held in the presence of three observers from the United States, South Africa and the European Union Commission. This meeting is scheduled to discuss procedural issues related to the role of observers and outstanding negotiating issues.
[caption id="attachment_115582" align="aligncenter" width="628"]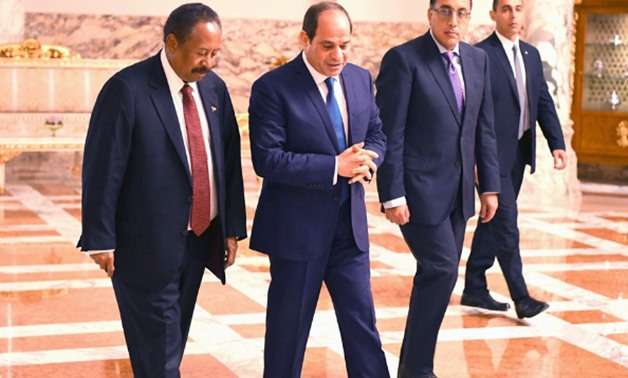 Sisi and Sudan's PM in Cairo- File Photo[/caption]
In a related context, Sudan's Abbas expressed optimism and confidence in the ability of the three countries to overcome the current obstacles and reach an agreement that addresses issues related to the filling and operation of the Renaissance Dam.
He also reiterated his country's adherence to its principled position based on negotiations in good faith, respect for the relevant rules of the international law, and protect the interests of Khartoum.
In March, the African Union called on Egypt, Sudan and Ethiopia to find a compromise formula on the GERD negotiations.
At a press conference, the Chairperson of the African Union Commission, Moussa Faki, at the end of his visit to Khartoum, said that "Sudan, Egypt and Ethiopia are African countries, and the Nile has long been a link between peoples."
For nine years, the GERD project has caused disputes, especially between Ethiopia and Egypt, as Cairo fears a possible negative impact of the dam on its annual flow of 55.5 billion cubic meters of water, while Sudan gets 18.5 billion.
Faki said that his discussions with officials in Sudan "witnessed a frank discussion on all issues and challenges related to the current political situation and the priorities of the transitional phase."