The long-awaited Pharaohs' Golden Parade kicked off Saturday evening amidst a successive international coverage,
In a majestic world parade, 22 mummies were transferred from the Egyptian Museum in Tahrir to the place of its permanent display in the National Museum of Egyptian Civilization in Fustat.
The procession includes 22 royal mummies, dating back to the 17th, 18th, 19th, and 20th dynasties. There are 18 mummies for kings and 4 mummies for queens, including the mummy of King Ramses II, King Seqnen Ra, King Thutmose III, and King Siti The first, Queen Hatshepsut, Queen Mert Amon, wife of King Amenhotep the First, and Queen Ahmose-Nefertari.
The event's main goal is to show Egypt's respect for its ancestors- the most famous Egyptian figures throughout the ages- who wrote the history of mankind and to confirm the ancient Egyptians' prestige.
Egyptian and Arab celebrities expressed on social media their awe and pride over the majestic event, including Mohamed Henedy, Mohamed Ramadan, Chico, Ghada Abdel Razek, Ali El Haggar, Somaya el Khashab, Angham, Ahmed Fahmi, Shereen Reda, Ahmed Fahmy, Ahlam, Carole Samaha, Nawal El Zoghbi, Haifa Wehbe, Najwa Karam, Elissa, Nancy Ajram, and others.
"Egypt is the focus of the attention of the world again, Egypt makes history and dazzles the world again," Henedy tweeted on Twitter.
مصر محط انظار العالم من جديد، مصر تصنع التاريخ وتبهر العالم من جديد ❤️👑👑👑 #موكب_المومياوات_الملكيه pic.twitter.com/ZG17H9QhhS

— Mohamed Henedy (@OfficialHenedy) April 3, 2021
Meanwhile, Mohamed Ramadan shared a teaser from his new music video entitled "Ghawi Nakkish", which was inspired by Ancient Egypt.
The footage featured Ramadan inside a sarcophagus.
"A great event .. Egyptians still dazzle the world with their civilization" Fahmy tweeted.
حدث كبير وعظيم.. المصريين مازلوا بيبهروا العالم بحضارتهم 👏🏻🇪🇬 #موكب_المومياوات_الملكيه

— Ahmad Fahmy (@AFahmyOfficial) April 3, 2021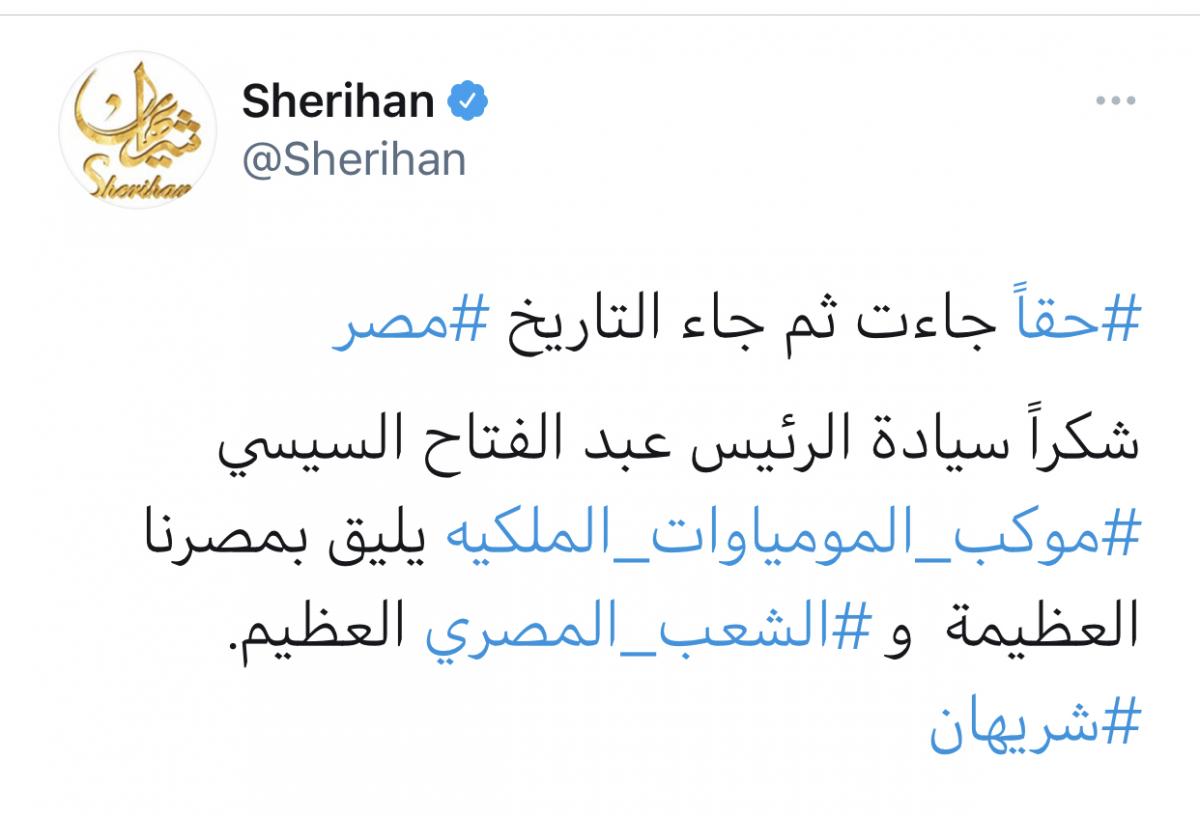 #مصر_تبهر_العالم بنقل ٢٢ مومياء لملوك وملكات #مصر القديمة 🇪🇬 حدث استثنائي يليق بتاريخها وحضارتها#موكب_المومياوات_الملكية pic.twitter.com/MquaU2Z070

— Haifa Wehbe (@HaifaWehbe) April 3, 2021
#موكب_المومياوات_الملكية #تحيا_مصر pic.twitter.com/1UqlLALXSA

— Angham (@Angham) April 3, 2021
❤️❤️❤️❤️ #موكب_المومياوات_الملكيه pic.twitter.com/g3mZpBmM2N

— Ahmed Fahmi (@fahmi173) April 3, 2021
عظيمة يا مصر ♥️♥️ #الموكب_الملكي

— Shereen Reda (@ShereenReda) April 3, 2021
في لحظه وبدون سابق انذار ولا اعلان مصر ارادت ان تقول انا ام الدنيا وتاريخها وحضارتها وعظمتها نعم انا مصر 🇪🇬 سيده كل لحظه وكل وقت وكل زمن عمار يا مصر العظيمه عمار يا امنا يا ام الدنيا #موكب_المومياوات_الملكية #مصر افتخر اني عربيه وانتمي ل #مصر 🇪🇬 pic.twitter.com/IgUuqFZKdc

— A H L A M 🇦🇪 #Ahlam2021 (@AhlamAlShamsi) April 3, 2021
🔺حفل ساحر مبهر ومشرف👏🏻👏🏻
تحية كبيرة لفناني مصر وللمايسترو الرائع #نادر_عباسي والأوركسترا وجميع المنظمين!!
عظمة على عظمة يا #مصر https://t.co/kyUWW9IJCB

— CAROLE SAMAHA🔺 (@CAROLE_SAMAHA) April 3, 2021
مصر الحضارة والمستقبل المشرف دائما بموت فيكي يا #ام_الدنيا ❤❤❤🙏 #مصر #موكب_المومياوات_الملكية pic.twitter.com/Uy0nIzBGdR

— Nawal El Zoghbi – نوال الزغبي (@NawalElZoghbi) April 3, 2021
هيك لازم حضارة تنافس حضارة وتبقى #مصر من الحضارات اللي بينحسبلا ألف حساب!!
عشتي يا #مصر وعاش هَرَمك سرّ الدّني🙏🏼#موكب_المومياوات_الملكية

— Najwa Karam (@najwakaram) April 3, 2021
فخورة جدًا بالعرض الضخم و الحدث الرائع الخاص بنقل المومياوات الملكية. مصر تاريخ و حضارة و مرة جديدة بتأكد للكل إنها أم الدنيا. تحية للرئيس عبد الفتاح السيسي و لكل القيّمين على هذا الاحتفال المشرّف.🇪🇬#موكب_المومياوات_الملكية

— Nancy Ajram (@NancyAjram) April 3, 2021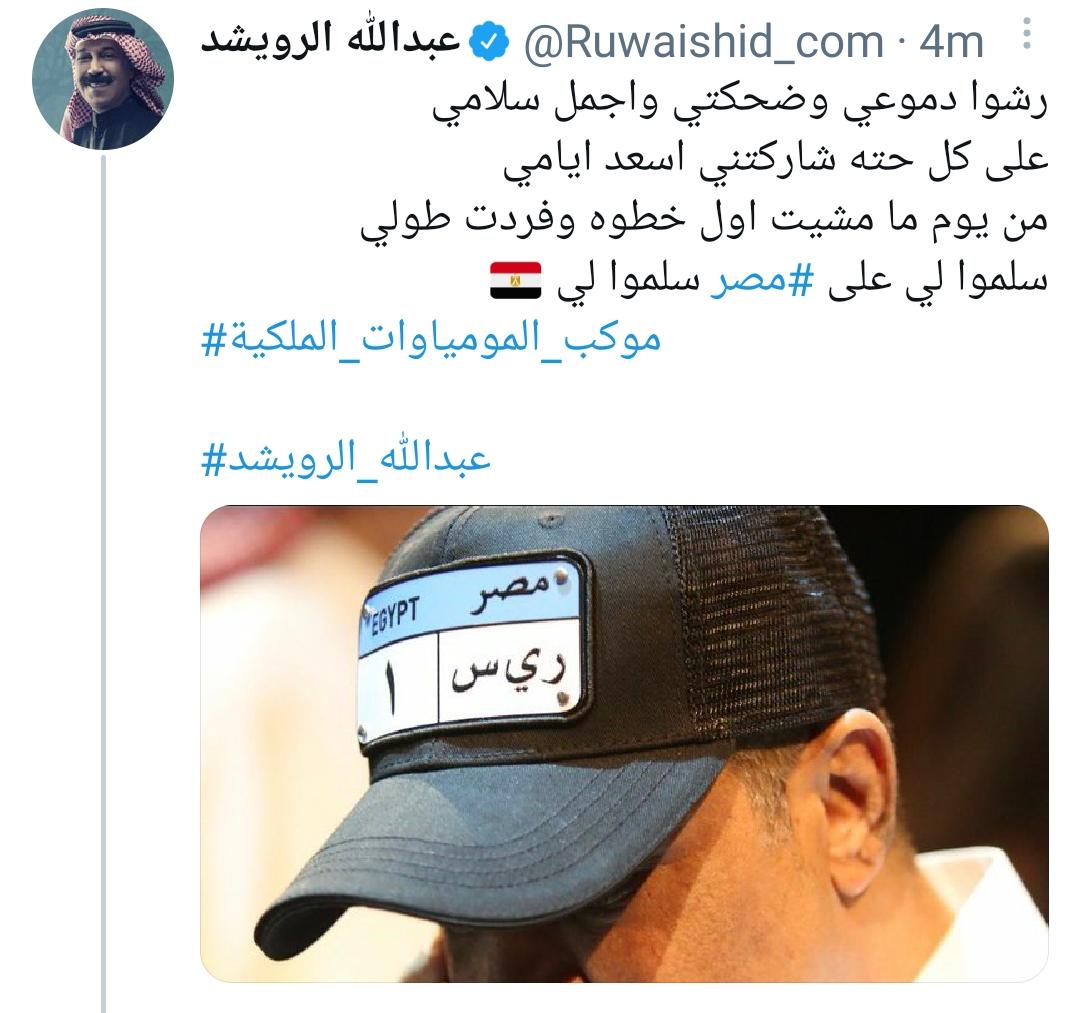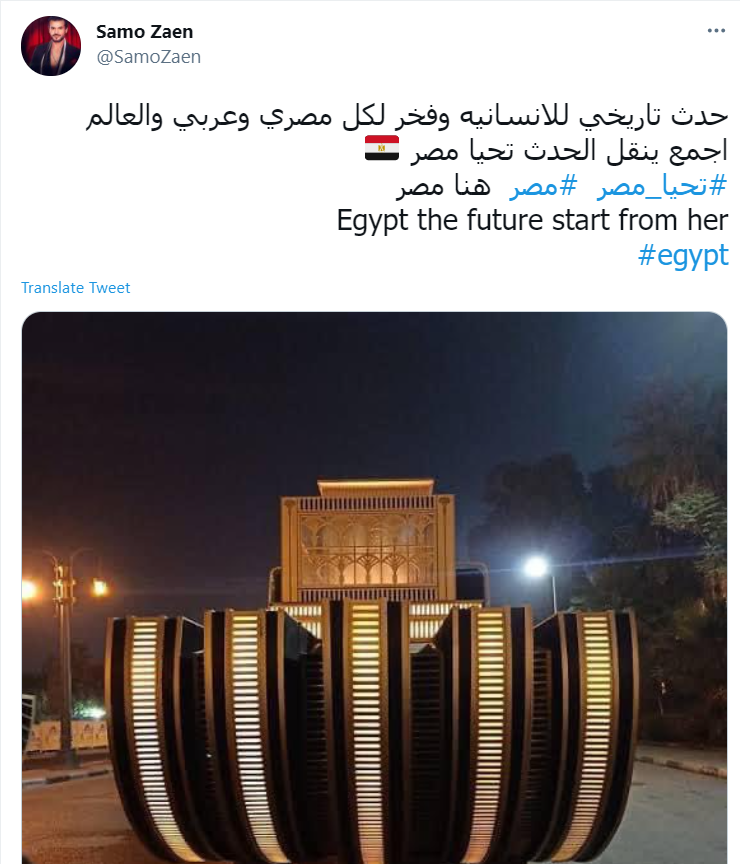 Furthermore, several celebrities who participated in the parade had taken to social media to express their pride over their participation such as Yousra, Mohamed Mounir, Karim Abdel Aziz, and Hend Sabry.
"It is a great honor to be a part of this majestic, unique and honorable event for every Egyptian and Arab around the world .. Egypt speaks for itself in the highest meanings of civilization and creativity, " Yousra wrote on Instagram.
Sabri wrote in a post on the platform, saying: "# Egypt, I love you ❤️ Thankful to every person who made yesterday's event flawless, the #goldenparade was a moment of great pride to all Arabs yesterday."