CAIRO, SEPTEMBER 25(SEE): Last night, all of Luka Modric's hard work paid off, as the 32 year old was named  FIFA's 2018 player of the year after the Croatian had a stellar year with Real Madrid and guided his nation to 2018's World Cup final.
Modric's life has been through lots of ups and downs and his success story is even more stellar, take a look at some facts you probably didn't know about Modric.
A Hard childhood in the Croatian War

Modric was born in Zadar,Croatia. He lived a rather rough childhood that coincided with the Croatian War of Independence which displaced his family. Modric described the experience of being born in such a predicament to be the key for his mental strength.
He joined his first Major Club at 16

In 2002, he was signed by Dinamo Zagreb at age 16, after showing promise with his hometown club's youth team. He continued his development in Zagreb before spells on loan to Zrinjski Mostar and Inter Zaprešić. He made his debut for Dinamo in 2005 and won three consecutive league titles and domestic cups
He lead Tottenham in their first UEFA Champions League appearance in decades

In 2008, he moved to Premier League club Tottenham Hotspur for a transfer fee of £16.5 million. He then led the Spurs to their first UEFA Champions League appearance in almost 50 years, reaching the quarter-finals of the 2010–11 tournament. He alongside with Real Madrid Midfielder Gareth Bale both blossomed in this incredible tournament.
He is a national team veteran

Modrić became part of Croatia's "second Golden Generation" in 2018's World Cup, but this world cup appearance wasn't his first, as he participated in every major tournament Croatia has qualified for, including the 2008, 2012, and UEFA Euro 2016, as well the 2006, 2014, and 2018 FIFA World Cup. At UEFA Euro 2008, he was selected for the Team of the Tournament, becoming only the second Croatian to ever achieve this honor.
He led Croatia to their first World Cup Final

Following group stage eliminations in his first two World Cups, Modrić led Croatia to the 2018 World Cup Final, and he received the Golden Ball award for Best Player of the Tournament
His family life is kept low profile

Modrić married Vanja Bosnić in May 2010 in the Croatian capital Zagreb in a private ceremony after four years of dating and a year later in church Their son, Ivano, was born on 6 June 2010 Their daughter, Ema, was born on 25 April 2013. Their second daughter, Sofia, was born on 2 October 2017. Modric doesn't like to include his family in many public appearances and maintains his family's privacy.
He publicly stated Carlo Ancelloti was his favorite trainer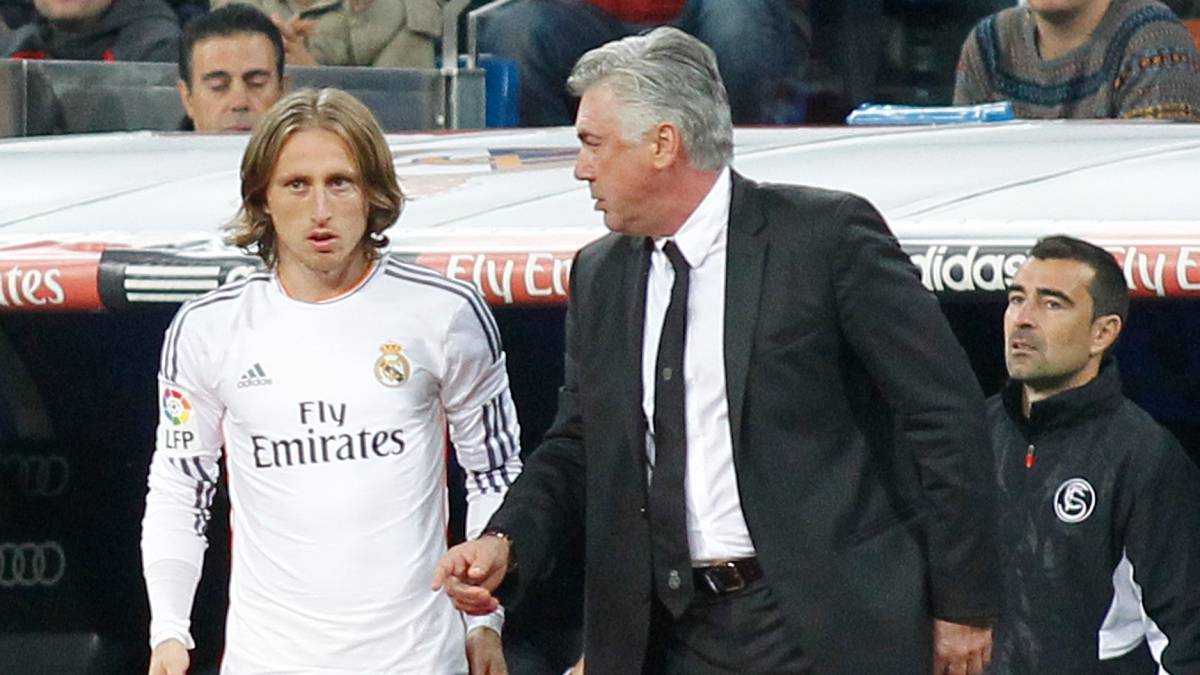 During his time at the Santiago Bernabeu, Modric has worked under the stewardship of four different managers; Jose Mourinho, Carlo Ancelotti, Rafael Benitez and, currently, Zinedine Zidane. Despite recently praising the Zidane for his work at the club, the Croatian admitted in an interview with the BBC last year that Ancelotti remains the best manager he has played under.
He idolized Ronaldo growing up

The Croatian claimed that growing up, his "first pair of shin pads had a picture of Braziliain legend Ronaldo on them." "They were these Nike ones and I loved them. I loved Ronaldo. The real Ronaldo! And I wore those shinpads for years. From when I was a little kid right up to when I started playing professionally in the Bosnian League.
He started very poorly at Real Madrid
In December 2012, Modric was officially named as Real Madrid's biggest failed signing for that season and a small portion of fans wanted the Croatian to leave the club due to his mediocre performance. His game time was limited as a result of missing pre-season training due to negotiations regarding his transfer taking up time and the fact that Xabi Alonso and Sami Khedira had established themselves at the heart of Los Blancos' midfield.
His small physique was a great disadvantage

Modric only grew to be 5'9 currently weighting 66kg, but in his early days Modric's small stature tortured him while trying to fulfill his footballing dream. "There was this boy who used to kick the ball around the hotel parking lot all day," were the words of NK Zadar chairman Josip Bajlo when commenting on Modric in his early days. "He was skinny and really small for his age, but you could see right away that he had that something special in him."