Jin, the oldest member of the K-pop boy band BTS, began mandatory service in the South Korean army last month.
The 30-year-old singer recorded a special message for the band's K-pop supergroup fans before he began his enlistment on December 13.
"Hello everyone, this is Jin of BTS. I won't be a civilian by the time the video is out. But I am here in front of the camera because I wanted to leave you something, even if it is just leaving a message," said Jin in the minute-long clip dropped on Monday.
He pointed out that the video was shot during a break from appearing on an episode of the SBS-produced South Korean variety show "Running Man", which he took part in November.
"Whenever I am available I wish to leave these videos and records once every few months to share with you as much as possible, even if it's just checking in briefly," he continued.
"I may not be by your side at this very moment, but I'll go looking for you soon, so if you just wait a little bit. I'll be back soon. That's all for today. Next time when I have the chance, I'll be back with another video."
Just before leaving for boot camp, Jin uploaded a photo that showed off that his signature locks — most recently on display in his "Astronaut" music video — were shaved in favor of what's known as the "induction cut."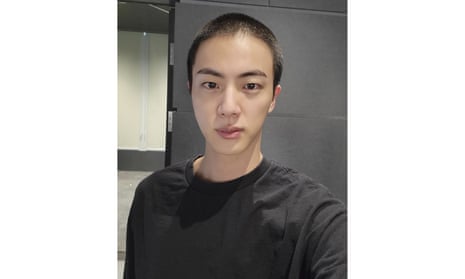 BTS announced plans in October to sever their military service, starting with Jin, who turned 30 on December 4, after having postponed his service for the maximum time allowed. The band will reunite in 2025 after pursuing individual projects.
South Korea requires military service for two years from all able-bodied men between the ages of 18 and 28. It revised the law in 2019 to let globally recognized K-pop stars delay signing up until 30.
In December 2020, the Korean National Assembly passed a motion (nicknamed the "BTS law") to allow top K-pop stars to postpone service until age 30 with a recommendation from the culture minister.
Jin is the first of the seven members to fulfill his mandatory obligations.