The Qaitbay of Citadel is one of the most important forts on the Mediterranean Sea coast. Between 882 AH/ 1477 AD and 884/ 1479 AD, the Mamluk Sultan Al-Ashraf Abu al-Nasr Qaitbay erected it over the ruins of ancient Alexandria's Lighthouse. It was used to defend Alexandria from naval attacks.
The fortress was built of limestone and covered an area of around 17550 m2. The structure is surrounded by an outside wall with defense towers.
The citadel's courtyard is surrounded by an inner wall, which contains various chambers, some of which are used as barracks and others for storage.
The citadel's entrance leads to a courtyard with the main tower in the northwest. It is made up of a large three-story square fort. Half-circular shapes occupy four of its four corners.
There is also a mosque on the first floor of the fortress, built in the Mameluke architectural style of the time.
It is made up of four small "iwans" or galleries, an open courtyard, a sahn in the center with a marble floor, and a finely decorated mihrab that, however, does not aim towards Mecca because the architect who created the fortress prioritized military usage. This mosque had a minaret that was eventually destroyed.
Based on research undertaken by French scientists and academics during the rule of Egypt, the Committee for the Preservation of Islamic Monuments carried out extensive modifications in 1904.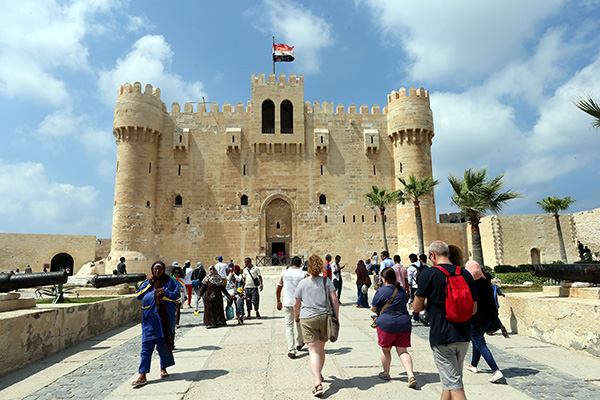 Today, the Citadel of Qaitbay is one of Egypt's most prominent historical landmarks, as well as one of the most popular stops on Alexandria excursions.
The journey to Qaitbay's fortress is highly recommended for all tourists visiting the city. Various Egypt vacation packages include the Citadel of Qaitbay and a half-day or full-day tour of Alexandria.
It may be reached by walking west on Corniche (or Costanera) Street. It is at the end of Corniche Street.