Egyptian actor Ahmed Diab passed away on April 15 at the age of 74. TV series "Al Fetewa" found a way to honor the actor, who contributed so much.
Amr Mahmoud Yassin, scriptwriter and son of the prominent actor of Mahmoud Yassin announced on his "Facebook" account the death of the late actor, without revealing the cause of death.
Diab passed away one month from the screening of the series, which is currently premiering in Ramadan and has received a great success.
The late veteran actor made a guest appearance on episode 20 of "Al Fetewa", which the series makers have dedicated the episode to him.
[caption id="attachment_126660" align="alignnone" width="710"]
Series makers dedicated episode 20 to Ahmed Diab[/caption]
The late actor played the role of an azhari sheikh in El-Gamaleya district, who gave a sermon before the start of the fetewa (ruffian) battle in the district after its fetewa Saber Abu Shadid (Ahmed Khalil) was killed in the previous episodes.
The episode featured Azmi Saber Abu Shadid (Ahmed Salah Hosny) battling Farag Al-Atal (Diaa Abdel Khalek ) with the "Nabot", a thick stick.
[caption id="attachment_126661" align="aligncenter" width="710"]
Ahmed Diab (R)[/caption]
Al-Atal had won the fight and spare Azmi's life. He was about to be named the fetewa, however, with the appearance of Hassan Ahmed Al-Jabali / Al-Maltham (Yasser Galal), had changed the course of the events.
Al-Jabali was appointed the new fetewa after defeating of Al-Atal with the "Nabot, and teaching him a lesson about the origins of the fetewana.
[caption id="attachment_126662" align="aligncenter" width="710"]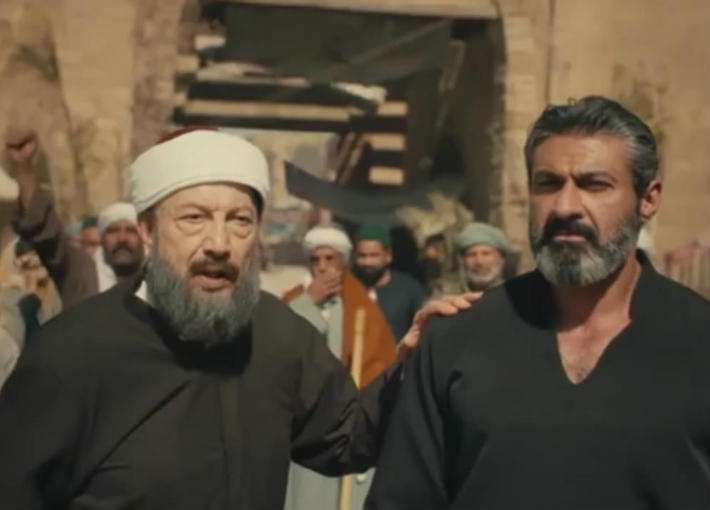 Ahmed Diab (L) Yasser Galal (R)[/caption]
The series starring Yasser Galal, Mai Omar, Ahmed Salah Hosny, Diab, Ahmed Khalil, Ryad El Kholy, Mohamed Ragab, Mahmoud Hafez, Naglaa Badr, Ahmed Gamal Saeed, Aaidah Riyadh, Farida Saif Al-Nasr, Ahmed Khaled Saleh, Hanady Muhanna, Layla Ahmed Zaher, Diaa Abdulkhaliq, Edward, and others.
Al Fetewa is written by Hani Sarhan, directed by Hussein El Menbawy, and produced by Synergy Production Company.
Ahmed Diab (1945-2020)
Diab was born on August 9, 1945, and got married to veteran Egyptian actor Rushdy Abaza's daughter, Kesmat, before he joined the entertainment industry, where he co-starred as a supporting actor throughout his whole career.
They welcomed their only child together a few years later, a boy they named Adham, however, their marriage did not last long.
In 2019, Kesmat passed away last year; her funeral was held low-key.
[caption id="attachment_121621" align="aligncenter" width="433"]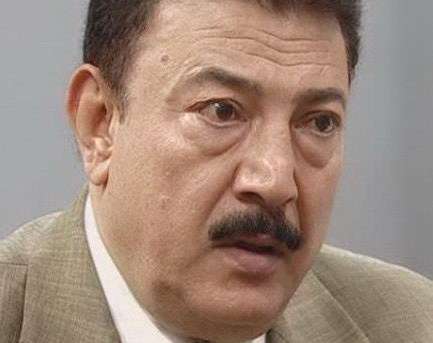 Ahmed Diab[/caption]
Moreover, Adham, who looks uncannily similar to his grandfather, currently lives in the United States, where he is married and has a daughter.
Diab presented more than 140 artistic works over the course of his career, which varied between television and cinematic productions, most notably was his role in the 2009 comedy movie "Bobbos" co-starring veteran Egyptian stars Adel Imam and Yousra.
The late actor is also known for his roles in "Opera Aida", "Alragol Al A'khar" (The Other Man), "Lel Adala Wugooh Kathira" (The Many Faces of Justice), and "Al Osyan" (Disobedience).
In 2019, Diab played the role of the Minister of Culture in Imam's TV series "Afaret Adly Allam".