Rami Makhlouf, the maternal cousin of President Bashar al-Assad and the businessman, was permanently banned from leaving Syria, according to a decision issued by the Syrian regime,
The Administrative Judicial Court in Syria announced a ruling to prevent Makhlouf from leaving Syria, after a claim submitted by the Ministry of Communications since it is the authority requesting sums of money from the "Syriatel" Company for Communications, which Makhlouf heads its Board of Directors.
The decision, published by the Telecommunications Regulatory Authority stated, on Thursday, that it was decided to prevent the defendant from leaving the country temporarily, pending the determination of the basis of the case, or the payment of the sums resulting from it.
Meanwhile, Ehab, brother of Makhlouf, announced his resignation from Syriatel and affirmed his loyalty to President al-Assad, justifying his resignation in a way that Makhlouf dealt with the media.
"No company can affect my loyalty to al-Assad leadership," Ehab added.
Makhlouf made a first and rare media appearance earlier this month, contesting recent government measures to seize his assets, according to al-Arabiya.Net.
Makhlouf Warns Assad of Abuse of Power in Syria
Syria's most powerful businessman, Rami Makhlouf, has published another video on May 3 addressed to President al-Assad, warning of an "abuse of power" after his employees were arrested by Syrian security services.
The second, unexpected broadcast condemned the arrest of his employees. "Today, the pressure on me began in an […] inhumane manner. Security services have started to arrest my employees," he said.
[caption id="attachment_94728" align="aligncenter" width="507"]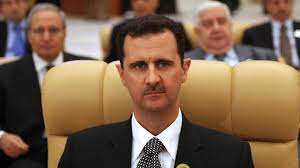 Syrian President Bashar al-Assad[/caption]
It is the first time that Makhlouf has openly identified the role of security services in his complaints.
Late April, Syria's state-owned telecoms company, which Makhlouf partly-owns, was accused of tax fraud and asked to pay over £S250 bn. Two weeks earlier, the government seized the assets of another of Makhlouf's companies, Abar Petroleum Service SAL.
Makhlouf gave assurances that he would pay the sum in the first video, but in this second appearance, he has stressed that he wouldn't be able to meet the demands placed on him.
"I am being asked to give up what I don't own. I am only the custodian," he said.