Photos of President Abdel Fattah El Sisi, meeting with German Chancellor Angela Merkel, French President Emmanuel Macron, and Russian President Vladimir Putin, went viral on social media on Sunday following Berlin Conference on Libya.
Earlier today, participants in the Berlin conference on Libya agreed on pressing for launching a new political process that puts an end to the ongoing conflict, according to MENA.
According to a draft final communique, the participants highlighted the threat posed by the current state of instability in Libya, foreign interference, institutional pision and the spread of large quantities of weapons to international peace and security.
[caption id="attachment_104518" align="aligncenter" width="990"]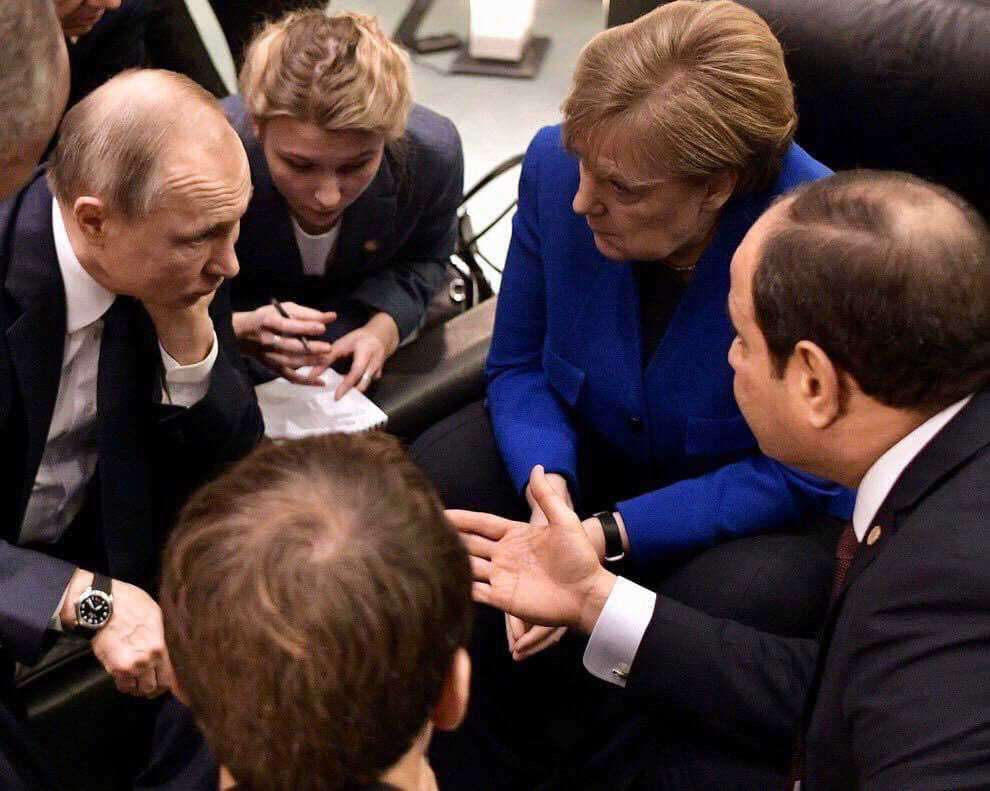 Sisi Talks to Putin and Merkel on Fringe of Berlin Conference[/caption]
The attending parties affirmed their commitment to supporting the Libyan people in their endeavors to address all problems related to government structure and security.
The first goal of the conference is to unify the international community's efforts to reach a peaceful solution to the Libyan crisis, the draft final statement read.
The draft statement calls on all active international players to refrain from interfering in the Libyan internal affairs.
It also recognizes the key role played by the UN to facilitate the initiating of a comprehensive political process in Libya based on the 2015 Skhirat Agreement, the UN Security Council Resolution no.2259 of 2015, and other relevant UNSC resolutions.
It calls for taking credible and verifiable steps by the warring parties to halt all hostilities in the Libyan territories.
[caption id="attachment_104520" align="aligncenter" width="960"]
Sisi Pose for A Photo Op with Presidents and Heads of States[/caption]
The draft statement stresses the need to start a comprehensive political process in parallel with arrangements for reaching a ceasefire agreement, as well as demobilizing members of armed groups and allowing eligible inpiduals to join all civilian, security, and military institutions.
It puts pressure on concerned authorities to take effective security measures for protecting residential areas and vital facilities, including government institutions, airports, ports, border crossings, oil installations, and power stations.
It calls on the UN Security Council to impose appropriate sanctions on those who violate the ceasefire agreement.