Samsung unveiled its second-generation quad-level cell (QLC) SSDs.The Samsung 870 QVO 2.5-inch SSDs are the successor the 860 QVO drives introduced in 2018.
According to PC.News, the 2nd improvement comes in the capacity on offer, with Samsung offering 1TB, 2TB, and 4TB options just as it did with the 860 drives, but the 870 QVO also introduces an 8TB option. We don't know how much it will cost yet, but an 8TB Samsung SSD did briefly appear on Amazon earlier this month for $900.
In terms of performance, these drives aren't setting any records, but they were never going to due to the use of a SATA connection. What Samsung is offering is an alternative to large mechanical hard drives, while easily beating them on performance sequential read and write speeds are rated at 560MB/s and 530MB/s respectively.
QVO SSDs
The drive claims to deliver a 13% improvement in random read speed versus the former 860 QVO, rendering it suitable for both gaming and everyday computing needs.
Phil Gaut, Director, Display Brand and Memory, Samsung Electronics Australia explained that Samsung 870 QVO SATA SSD builds on the legacy laid by its predecessor, the 860 QVO, which proved extremely popular with customers in Australia looking to speed up their PC performance.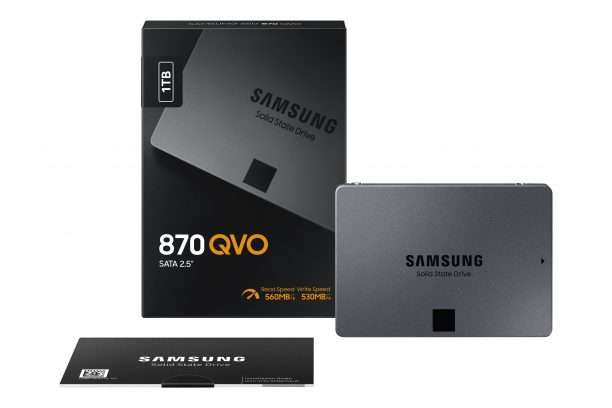 QVO SSDs
Meanwhile, Samsung gives the 8TB drive an endurance rating of 2,880 terabytes written (TBW) and backs that up with a three-year limited warranty. The endurance rating for the other drivess are 1,440TB for the 4TB model, 720TB for the 2TB model, and 360TB for the 1TB model.
Noteworthy, Samsung added Korean ARCore list from Google for its latest series of smartphones Galaxy S20, Galaxy S20 + 5G and Galaxy S20 Ultra 5G.
ARCore is a suite of software development tools that allow building augmented reality applications and uses three main technologies to integrate virtual content with the real world, according to World Today news.
The Depth API helps to distinguish between the foreground and the background in the real world, so that digital objects can more realistically move in space with the help of path-definition algorithms.
Galaxy S20 + and Galaxy S20 Ultra also feature a VGA 3D ToF (Time of Flight) camera for accurate mapping of objects, which is something that can be used in augmented reality applications.
ARCore
Meanwhile, Samsung announced its new Galaxy M01 smartphone, in conjunction with the launch of the Galaxy M11 in the Indian market. Galaxy M11 phone with a 6.4-inch screen with 1560 x 720 pixels resolution, three 13-megapixel, 5-megapixel and 2-megapixel rear cameras, while the front camera that comes within the screen is 8 megapixels.
According to Today News, as for the new Galaxy M01 phone, it offers a screen measuring 5.7 inches and accurately + HD, but the front camera is in parts and not within the screen, and it comes with a 5-megapixel resolution, while the rear cameras are two with a resolution of 13 megapixels and 2 megapixels.