Egyptian actress Mai Omar has joined recently the cast of film "Taht tahded el Selah"(at gunpoint).
On Monday, the film's writer, Ayman Bahgat Kamar took to Facebook to share an update about the film.
Qamar revealed that it will be produced by Ahmed El Sobky, directed by Mohamed Hamaki, noting that that the latter has the same name as the Egyptian superstar.
Furthermore, he unveiled that the film also stars Hassan El Raddad, Ahmed Bedier, Bayoumi Fouad, Riham Abdel Ghafour, and Fathy Abdel Wahab.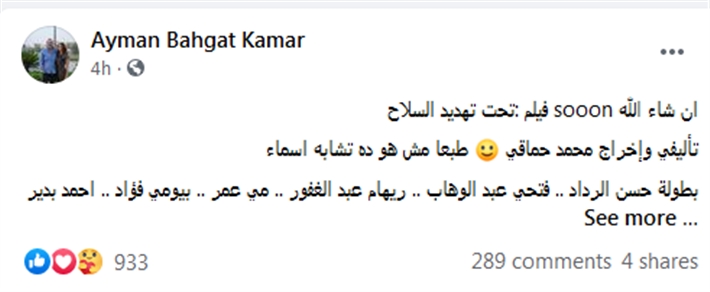 Omar is set to participate in Ramadan 2021 drama marathon with TV series "Nasl Al-Agrab".
"Nasl Al-Agrab", which takes place in Upper Egypt, is one of the largest drama productions in Ramadan 2021.
It features many stars including, Mai Omar, Diab, Firdous Abdel Hamid, Naglaa Badr, Edward, Ahmed Malek, Ahmed Dash, Ahmed Fahim, Injy El Mokkaddem, Mohamed Mahran, and others.
It is produced by Synergy Production Company and written and directed by Sami.
Omar's latest artistic work is the TV series "El Fetewa", which achieved great success during its premiere.
The series also stars Yasser Galal, Ahmed Salah Hosny, Diab, Ahmed Khalil, Ryad El Kholy, Mohamed Ragab, Mahmoud Hafez, Naglaa Badr, Ahmed Gamal Saeed, Aaidah Riyadh, Farida Saif Al-Nasr, Ahmed Khaled Saleh, Hanady Muhanna, Layla Ahmed Zaher, Diaa Abdulkhaliq, Edward, and others.
[caption id="attachment_131479" align="aligncenter" width="682"]
Mai Omar[/caption]
It is worth mentioning that Omar, born on February 7, 1988, graduated from the American University in Cairo (AUC), Mass Communication department.
She started her career as a producer in the field of adverting, then got into acting in 2013 with her role as "walaa" in TV Series "Hekayet Hayah".
In 2010, Omar, and Sami tied the knot, after a love story, and have two daughters, Taya and Celine.
She is known for her roles in 2019 TV series "Weld El Ghalaba", in 2017 TV series "rayah el madam", in 2017 TV series "Afaret Adly Allam", in 2017 film "Tsbah ala kher", in 2017 TV series "Al Ostora", in 2015 TV series "Halet Eshq", in 2014 TV series "Kalam Aala Wara", and in 2013 TV series "Hekayet Hayat".
In 2019, Omar participated in Ramadan with Ahmed El Sakka's TV series "Weld El Ghalaba", whose killer performance in the series had stunned everyone.