Egyptian actor, Karim Mahmoud Abdel Aziz has joined the cast of TV series "Omar el Nagy: Trojan War", starring actor Amir Karara.
The series, written and directed by Peter Mimi, consists of 8 action-packed episodes. It will debut online on "WATCH IT" digital platform.
The series is reported to be presented in several seasons and translated into many languages.
[caption id="" align="aligncenter" width="1300"]
Karim Mahmoud Abdel Aziz[/caption]
Abdel Aziz recently finished shooting the sci-fi film "Mousa", which is the first Arab robotics and artificial intelligence (AI) film in the Arab world.
It also stars Eyad Nassar, Asma Abo Elyazeid, Sarah Al Shami, Mohamed Jumaa, Salah Abdullah, and others.
The film, produced by Synergy production company, is also written and directed by Mimi.
The plot revolves around an engineering student who invented a robot to help him with his personal issues, but things get complicated and out of control.
Earlier this month, Synergy dropped the film's first teaser, watch below.
https://www.youtube.com/watch?v=l3c28wbfG6c
Abdel Aziz appeared last Ramadan in Karara's latest TV series "El Ekhteyar" (The Choice), which was one of the most-watched soap operas.
The series revealed the true nature of terrorism and the hostility of terrorist groups to Egypt.
Karara as martyr Colonel Ahmed el-Mansy in the series. El-Mansy was the commander of Sa'ka Forces (Thunderbolt Forces) battalion 103, who was martyred with several other members of his battalion on July 7th, 2017.
[caption id="" align="aligncenter" width="576"]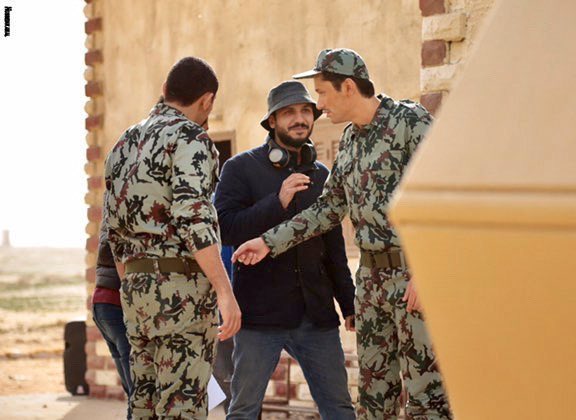 Karim Mahmoud Abdel Aziz (L), Mimi (M) at the behind-the-scenes of TV series "The choice"[/caption]
It also featured many celebrities making guest appearances including Ahmed El Sakka, Diab, Ahmed Khaled Saleh, Ahmed Salah Hosny, Mohamed Emam, Maged El Masry, Eyad Nassar, Asser Yassin, and Mohamed Ragab.
Karara received wide recognition for his outstanding performance from day one, following its premiere during the holy month of Ramadan.