It seems that the differences between Turkey and Russia over the developments of the crisis in Libya have deepened and expanded, after canceling a meeting, which was described as "important" between high-ranking officials from both countries, at a time when the Syrian province of Idlib has emerged as a card that Turkey can maneuver for its interests in Libya.
Russian Foreign Minister Sergey Lavrov and Defense Minister Sergey Shoygu were scheduled to meet their Turkish counterparts in Istanbul over the crisis in Libya.
Moscow did not mention the reason for canceling the visit, which was scheduled for Sunday, but the move may show the continuing differences between the two countries in Libya, which are raging battles, according to political analysts.
[caption id="attachment_127653" align="aligncenter" width="550"]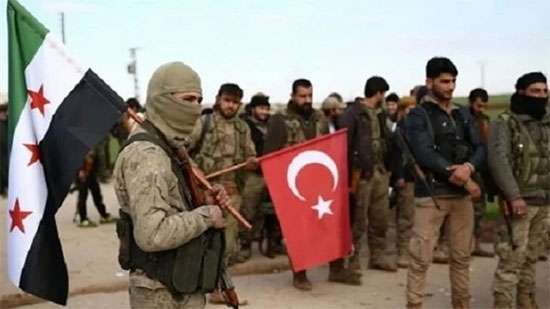 Syrian militants backed by Turkey[/caption]
The Russian Foreign Ministry said that the experts of the two countries are continuing to make extensive contacts on a quick cease-fire agreement in Libya.
Despite Moscow and Ankara's insistence that official talks between the two countries are currently focused on Libya, simple indications in official statements have spoken of the situation in the Idlib province, which is controlled by extremist factions, loyal to Ankara.
Observers believe that there is an intention to conclude a swap between the two parties, in which Turkey would exit the extremist and terrorist organizations from Idlib, this is one of the Russian key demands, in exchange for that Russian gives Turkish the green light to expand in Libya and abandoning the red lines drawn by Moscow previously there.
Erdogan Exploits Syrians
The director of the Syrian Observatory for Human Rights, Rami Abdel Rahman, said that Turkey is exploiting the Syrian people's tragedy.
[caption id="attachment_110465" align="aligncenter" width="1024"]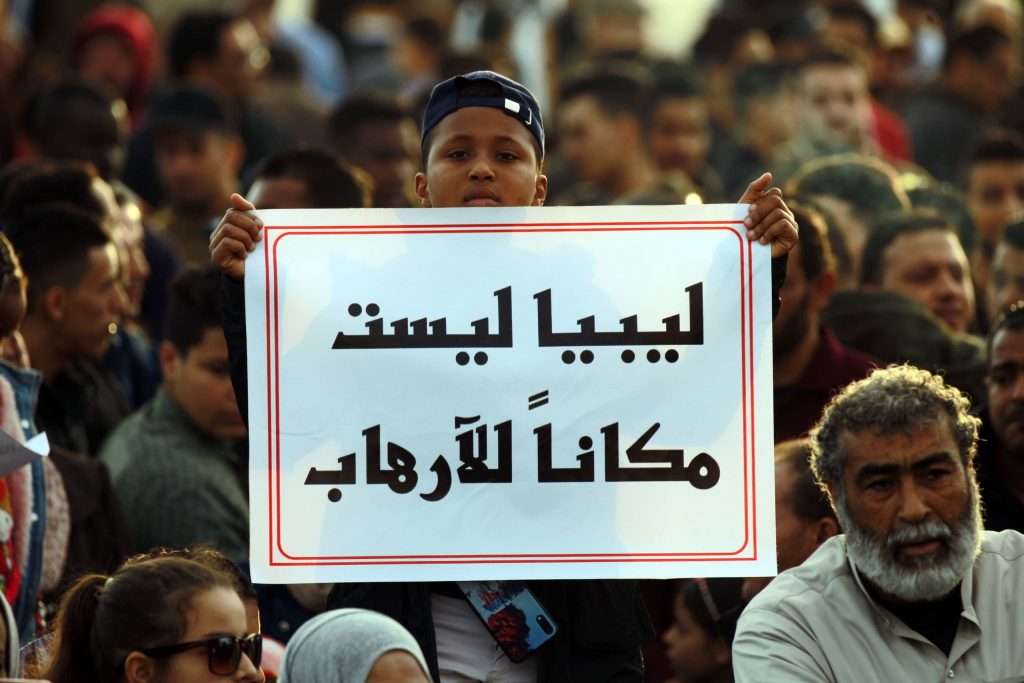 A boy carries a sign reading Libya is not a place for terrorism[/caption]
Abdel Rahman added that Turkish President Recep Tayyip Erdogan and members of his government should be "merchants, not politicians because they are looking for gains at the expense of peoples causes."
He added that Turkey wants to get more gains in Libya in exchange for making more concessions in Idlib.
He stressed that the Libyan and Syrian files have become closely linked to each other after Ankara established a bridge to transport extremists from Syria's Idlib to Tripoli in Libya.
In a rare statement last week, Turkish Defense Minister Hulusi Akar said that there are extremist groups in Idlib working to sabotage the cease-fire, and this statement has raised strong speculation that Ankara may abandon some of its extremist allies in Idlib in exchange for something from Russia related with the Libyan file.
Moscow rejects continued Turkish support, in various forms, to the Tripoli government, especially after the signing of the maritime and military agreements between Ankara and the Government of National Accord, headed by Fayez al-Sarraj, last November.
Turkey's Ambitions in Libya
Turkey strengthens its influence in Libya for many purposes; most notably oil interests, especially the sharing of the eastern Mediterranean oil regions, the conflict in Syria, and the file of illegal immigration to Europe.
[caption id="attachment_129256" align="aligncenter" width="1024"]
Turkish Fatih Drill Ship[/caption]
To win these bets, Ankara provided continuous military support to the militias of Tripoli, in defiance of international resolutions, which prohibit the country from supplying arms.
The Turks also provided their Libyan allies with Syrian mercenaries, military advisers, and combat drones, which played a role in changing the balance of field forces in recent weeks.
The stalled progress of the GNA militias, backed by Turkey, towards the oil crescent, in northern Libya, reflects Ankara's weakness in overcoming the Russian red lines, which Moscow drew on the field.
On Monday, a Turkish official said, the main dispute between the two sides is Russia's refusal of Turkish military efforts to take control of the coastal city of Sirte.
On the other hand, Ankara knows that Russia's expansion of its intervention in Libya, in favor of the Libyan National Army led by Field Marshal Khalifa Hafter, will pose a greater threat to the al-Sarraj's GNA.