Egyptian actors Ahmed El Sakka and Amir Karara began, Tuesday, filming TV series "Nasl Al-Agrab", which is set to be premiered in Ramadan 2021.
Egyptian director, Mohamed Sami, the director and writer of the series, announced Tuesday the news on Instagram.
He also shared on the platform a photo of him with El Sakka, Karara, and producer Hossam Shawky, manager of Synergy Production Company, which will produce the series.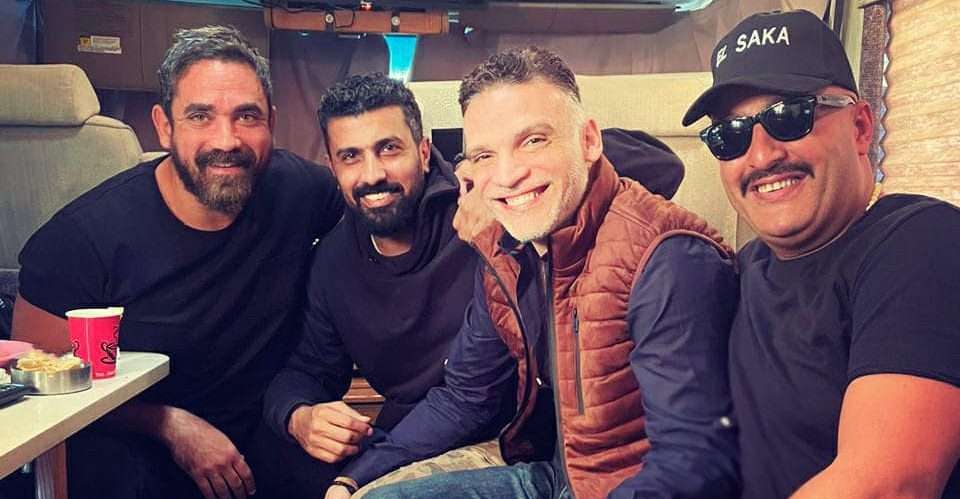 "Nasl Al-Agrab", which takes place in Upper Egypt, is one of the largest drama productions in Ramadan 2021.
It features many stars including, Mai Omar, Diab, Firdous Abdel Hamid, Naglaa Badr, Edward, Ahmed Malek, Ahmed Dash, Ahmed Fahim, Injy El Mokkaddem, Mohamed Mahran, and others.
The series marks the first collaboration between El Sakka and Karara in a drama, as they presented together more than one cinematic production.
It is worth mentioning that El Sakka, born on March 1, 1973, is an Egyptian actor. He graduated from the Academy of Arts.
He began his acting career with appearances in Egyptian mini-series and ended up co-starring in many famed Ramadan series.
Early in his career, El Sakka appeared in popular series such as "Nesf Rabeea El-Akhar", "Nsf rbye alakhar", "Wamin Aldhy la Yuhibu Fatma?", "Tarwid alsharisa", "Helm El Ganouby", and "Zayzinia S1".
He established himself as an actor in 1998 when he co-starred in film "Saeedi Fil Gamaa El Amrekeia" (Saeedi in the American University).
In 2000, the actor received his first leading film role in "Short wi Fanila wi Cap" (Short, T-Shirt and Cap).
El Sakka has appeared since then in many films, such as "Horoob Etirari", "30 Years Ago", "El Gezira 1 and 2", "Ibn el-Qunsul" "Al Maslaha", "The Dealer", "Ibrahim Labyad", "Taymour and Shafika", "An el ashq wel hawa", "Harb Atalia", "Tito", "Mafia", "Africano", "Short w Fanelah w Cap", "Hamam fi Amsterdam", and "Saeedi fil gamaa el amrekeia".
He also co-starred in many plays including "Kedah okaih", "Afroto", and "Alabanda".