Tunisian singer Saber Rebai will perform live at the Sea View resort, in North Coast, Egypt, on Friday, August 26.
He is set to present several of his popular and latest songs.
The event marks the singer's first-ever concert in the coastal city.
On the other hand, Rebai will perform live at the 56th edition of the Carthage International Festival (FIC), in Carthage, Tunisia, on August 16.
The FIC will run from July 14 to August 20th, with a two-day hiatus on July 24 and 25 due to the constitutional referendum.
The festival will feature a selection of 33 shows from performances from Tunisia, Lebanon, South Korea, Switzerland, and many other countries.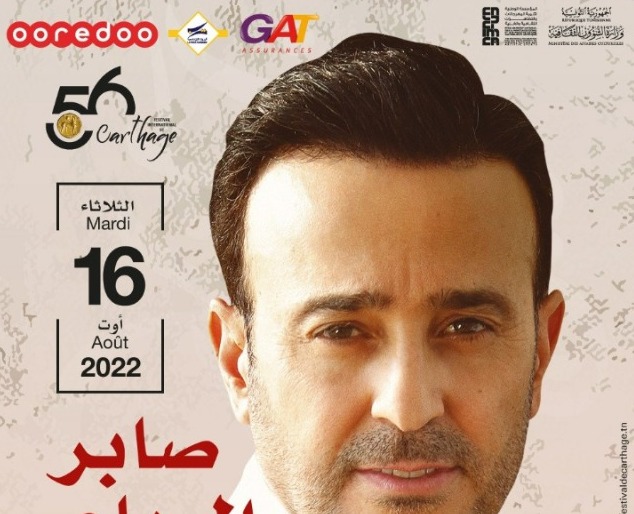 The 56th International Festival of Carthage (FIC) kicked off in Tunisia after a two-year hiatus due to the coronavirus outbreak.
The FIC is one of the most prestigious music festivals in the Arab world. It is also considered an essential station in the lives of many singers Most of the festival's activities are held inside the antique theater of Carthage. The theater was restored in the early twentieth century and has a capacity of 7,500 spectators capacity.
Since its founding, the festival hosted many famous singers such as Jean Michel Jarre, Dalida, James Brown, Louis Armstrong, Ray Charles, Saber Rebaï, Kadim Al Sahir, Najwa Karam, Sherine, and Majida El Roumi.
Rebaï, born on March 13, 1967, in Tunisia, is a singer, actor, and composer. He began his singing at the of 17 years old
The acclaimed singer was impressed by singers such as Mohammed Abdel Wahab, Abd El Kader El Asaly, Wadih El Safi, Abdel Halim Hafez, and Karem Mahmoud.